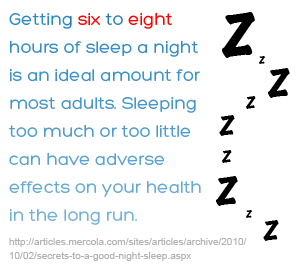 By LISA SWAN
You're tossing and turning when you are trying to sleep, and yawning during the day because you are so exhausted from the night before. It doesn't have to be that way. Here are some tips to get a good night's sleep, without taking some habit-forming prescription medication:
Don't eat or drink before going to sleep: Drinking a caffeinated drink even several hours before going to bed can disrupt your ability to sleep well. So can eating a big meal late in the evening. And although many people have an alcoholic drink before bed to relax them, paradoxically, it can contribute to poor sleep.
Start an unwinding routine: Some say that watching TV or reading a book could cause sleep problems, but it really depends on what you're watching. Checking out relaxing travel images or reading an inspirational book may put you in a great frame of mind for sleep, while reading a Stephen King book or watching, say, Boardwalk Empire could give you nightmares. Instead, come up with a routine where you unwind from the day, and feel calm. Aside from TV or reading, some find comfort in mediation, prayer, or writing in a gratitude journal about their day.
Make your bedroom a sanctuary: Keep your bedroom clean, clutter-free, and a place of refuge, with soothing décor that put you in a relaxed frame of mind. And don't bring work into the bedroom. Your room should be about getting a good night's sleep, not burning the midnight oil.
Get a more comfortable bed: If your bed is so old, you purchased it during the Reagan Administration, maybe it's time – actually long past time – to get a new one, or at least a new mattress. There are more comfortable beds these days than ever before in history, so now is a great time to find a new bed. If you can't afford a new bed or mattress, then at least get bedding that will help you relax better, such as soft sheets or a fluffy blanket.
Make sure your room is dark and quiet: It is possible that you have sensitivity to light. You could do things like get blackout shades for your windows and cover up digital appliances, or you can just wear a sleep mask when you sleep. You also want to try to limit noise in the room, like the ticking of a wall clock.
Try to go to bed and wake up at the same time every day: If you go to bed at all different hours of the night, and wake up at various times, this could contribute to poor sleep habits. Try to stick to a schedule.
Take naps: If your schedule allows, take a nap during the day. You may feel very refreshed. Even a 20-minute nap can make a difference. Of course, your schedule may not allow naps, but if it does, it's something to think about.
See a doctor: There could be a physical reason for your poor sleep. For example, if you are a middle-aged woman, poor sleep could be a sign of menopause. Or you could have a sleep disorder like sleep apnea. You can also talk to your doctor about natural remedies that can help you fall asleep. Melatonin is a hormone that regulates your sleep cycles, while valerian is an herb. Both can potentially help you get a good night's sleep, but you should clear their use with a physician first.