This past year has been one for the books in every sense. As people leaders we are generally prepared to contend with the common issues that arise in the workplace, but Covid-19 was a new beast that made us question everything, including how we work. The social injustices and civil unrest made us take a hard look at the inequality and inequities in our society as well as demand real change in how we operate in every part of our lives. 
As we hit the 18-month mark since the world shut down, with nearly half the US population fully vaccinated (48.4% as of July 10, 2021) companies have more than their fair share of pressing issues to address.

The ThinkHuman team has heard from some of you and some of the pain points you are focusing on: burnout, returning to the office and DEI.
To gain further insight into how different companies are addressing these issues we reached out to trusted HR Leaders and

asked them a series of questions to shed light on how we can all transition into yet another new normal.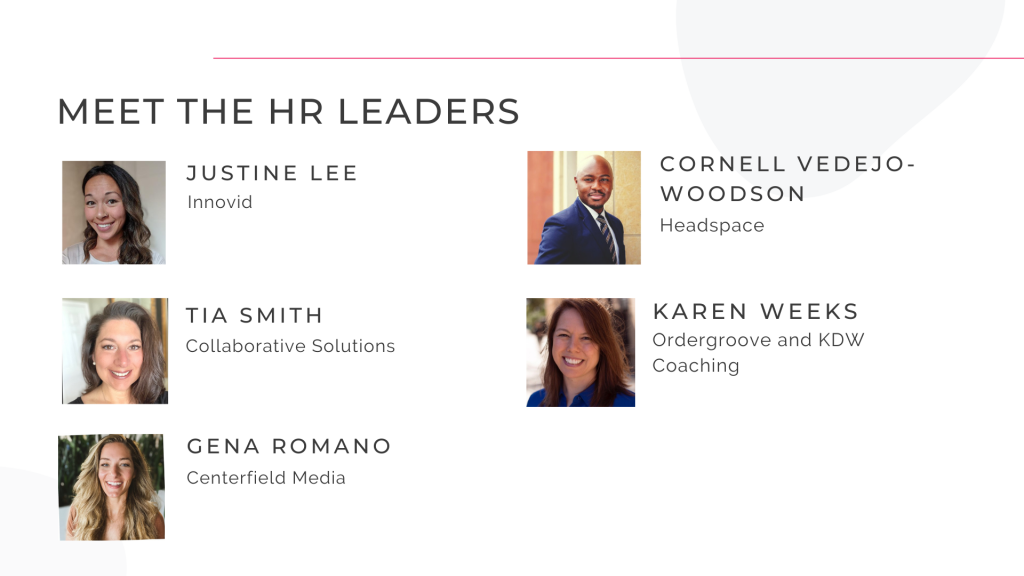 ---
BURNOUT
---
 To what do you attribute the causes of burnout to in your organization?
There are three main reasons employees experience burn out today.
First, the fatigue of working from home with COVID is making employees feel more anxious
than ever and have a stronger desire for change. Living and working in the same small space has
proven to be challenging for many employees' mental health. The daily social interactions we used to have so casually were instrumental in our mental and social well-being. As the country begins to re-open and life starts to return to some normalcy, this COVID strain begins to loosen its grip on our employees.
Secondly, with our massive growth, our employees are being asked to constantly shift priorities and integrate new people seamlessly, while remote. We hired more than 40 people in the first quarter, and the work strain on normal responsibilities in conjunction with the added growth has caused added pressures to our team and our leaders.
Finally, when growth is high, managers must be hyper aware of their team's satisfaction and of the organizational design of their department. It's imperative that leaders are constantly evaluating their team structure and distribution of responsibilities. This ensures teams stay challenged, engaged and retained in the long run.
Burnout happens in different ways for different people. It can be the amount of work in 
relation to the amount of resources employees have to do their job or unreasonable 
deadlines.
It can be battling imposter syndrome, low psychological safety, dealing with microaggressions, bias, or being the only one on your team in terms of identity. For our moms, it can be juggling family life and needing to prove to their boss and colleagues that they can do it all.
Many employees decided to forego PTO last year. In fact, a recent HR study by Monster shows 
that 71% of employees are waiting to take time off until things fully reopen. This is problematic 
because it leads to burnout and stress among employees, especially as work/life integration has 
blurred with remote work.
---
What are the best ways to approach burnout from a short-term and long-term perspective?
At Innovid, we've created a well-being program that outlines all of our benefits and resources, we've held recurring meditation and yoga sessions, designated no internal meeting Fridays, provide flexible schedules, encourage people to take time off and to use the allotted sick time to take mental health days, among many other things.
We also have a people-oriented culture, where our CEO openly talks about these issues in company-wide meetings, so team members feel that they can show up to work as their authentic selves.
Cornell Verdeja-Woodson
In the short term, organizations can create space for people to take time away from work for 
self-care, be flexible with work hours, and consider the number of meetings people are in 
each day.
Does that meeting need to be a meeting or can it be an email/Slack message, 
Google chat message, etc? Consider creating space where folks can have their camera off 
during Zoom meetings.
Ask and listen to what your employees are experiencing, especially those from marginalized backgrounds.
In the long term, organizations can review their 
policies, establish a culture where self-care is critical for organizational success, address 
problematic behaviors that contradict the culture of well-being, belonging, and psychological 
safety. Additionally, ensure that teams are resourced appropriately to deliver on their goals.
Gena Romano
Communication is the best method to approach burnout from a short-term perspective.
Keep communication high. You can't over communicate enough when burnout is lurking around the corner. Quick check-ins more frequently, mini pulse surveys and more company-wide updates from the leadership team help keep people on track and focused. When communication is high AND clear, you can stay nimble and pivot as necessary to make changes that better the employees experience.
At the end of the day, it's all about making the best possible experience for all of your employees, regardless of what life-cycle stage they are in.
Also, while it's difficult, creating multiple contingency plans for annual planning and headcount can help to avoid burnout in the long term. Getting the necessary stakeholders together to mold these plans, talk through options and get creative is essential in the planning process.
Finally, flexibility is the single most important attribute the leadership team can embody to help employees avoid burnout.
Being flexible when plans change or structures shift will show the employees that we are going to keep human capital at the forefront of every decision we make.
---
How are you coaching your leaders and the executive team about burnout and addressing this issue with their teams?
Be a role model!
Take time off, block your calendar, model the things we are telling our teams to do. And create space for those conversations so it's not taboo or embarrassing and removes the anxiety about talking about burnout.
Cornell Verdeja-Woodson
We are using data to tell the story and the "active ingredients" from research.
We are 
coaching our leaders to check in on their direct reports by asking thoughtful questions
in order to build trust.
Lastly, we are using what the research calls models to help leaders learn 
what it looks like to care for their direct reports. For executive teams, we are making a 
connection between our company priorities and the strain their decisions place on the people actually doing the work.
---
RETURN TO THE OFFICE
---
What are your biggest concerns about going back to the office?
We are actually continuing to allow a flexible hybrid model.
No one HAS to go back if they don't want to (or they can go back as they wish part-time).
So my concern is just managing that hybrid model to make sure we don't slip back into NYC-centric thinking.
Cornell Verdeja-Woodson
I have a few things I think about as we return to the office:
Will folks have the option for how or if they return to work?

We didn't do a great job at including remote workers before the pandemic. I'm concerned about how we will train managers to create belonging and cohesion among a team that is remote and in-person.

Will DEI remain top of mind for folks? Will we take what we are learning through this pandemic into the future to guide how we rebuild our company culture?

Will we use this new remote opportunity to increase diversity among our employees?
---
How are you addressing them short-term and long-term?
Cornell Verdeja-Woodson
We are working on leadership development for people managers to equip them with skills 
needed to support their teams effectively in a hybrid model.
Long term, we are building out a 
performance process that embeds constant and regular communication through 1:1s and 
monthly check-ins.
---
DEI
---
DEI was a big topic this year, and the BIPOC community is concerned about it losing momentum. How are you addressing, inaction, lack of action and silence around this issue in your organization?
Justine Lee
DEI is still a major priority for us and I do not see it losing momentum anytime soon – we won't let it. It is not an issue that can be addressed in a year, and unfortunately it probably cannot be addressed in the next 5-10 years.
We have centuries of systemic racism that have and continue to keep minorities out of the country as well as limit their access to education and career opportunities that we need to make retribution for.
We will not stop advocating for ourselves and others until there truly is diversity, equity, and inclusion in this country.
Cornell Verdeja-Woodson
From my perspective the big topic is exactly what this question
references. So  many 
organizations expressed their commitment to DEI and expanding racial equity, but we are all 
waiting to see where things fall after we return to some sense of normalcy.
Will these organizations sustain their commitment? At Headspace, we are working to embed DEI into our performance evaluation process.
Therefore, employees' active commitment to DEI is a part of how they obtain promotion and their yearly bonus because it is a part of how we 
expect our employees to perform.
Karen Weeks
We actually adjusted our goals to focus more on allyship and education. While we will always be working on diversity metrics and making sure we as a team are focused on DEI, we want the organization to be focused more on broader action and understanding.
So our programs are going to be more focused on understanding and support moving forward.
---
What do you think is needed to create a more equitable sustainable organization?(short-term and long-term)
Cornell Verdeja-Woodson
To create more sustainability around equity within organizations we need leaders being as relentless about DEI goals as they are about "business goals". We need leaders who can make 
the hard decisions regardless of which privileged group gets upset. Additionally, we need to begin holding people accountable for poor behavior regardless of how much money they bring into the company.
Lastly, we need to elevate DEI roles to the c-suite and actually trust their expertise.
Justine Lee 
We each need to do the work in acknowledging our biases (which we all have), educating ourselves (without putting that responsibility on any minority group), truly listening to one another, and taking action. 
We need diverse leaders. We need allies. We need discrimination to end.
---
How do you make sure intersectionality is at the center of what you do in DEI in your organization?
Cornell Verdeja-Woodson
In my opinion we should never "go-to-market" with any product, strategy or program without 

having a conversation about how this product, strategy, or program meets the needs of the most 

marginalized who often live at the intersection of multiple marginalized identities. 

It should be a clear part of the process.
Tia Smith
It is crucial to take a multifaceted approach to DEI.
Our Head of Diversity is focused on a holistic approach to our diversity journey, which includes initiatives such as reviewing and enhancing our hiring practices, addressing pay parity by race/gender, adding DEI content to our manager and leadership programs, and driving continuous growth of our Employee Resource Groups.