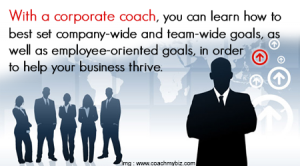 Corporate coaching is a fast-growing field, mainly due to the fact that savvy executives and entrepreneurs are all becoming increasingly aware of the many benefits it can produce. Whether your company is a startup finding its way in the world, a more-established business facing new challenges, or a longstanding company trying to stay relevant, our corporate coaches can help. We can also help you meld two separate company cultures together if you are undergoing a merger. Here are the some of the reasons you may find that corporate coaching can work for you:
Coming up with, or revising, a mission statement
A great mission statement is not just about words. It is about having a written ethos to guide you in every step you take in your business. It is also about making sure that everybody buys into the mission, and that if your company's mission changes, that the mission statement changes. Sounds simple, right? But sometimes, just getting to the point of doing a mission statement can be difficult. That is where a corporate coach can help; getting you to focus on what really matters and help you clarify what is essential to your company, so that your mission statement is more than mere words, but gets your staff to buy into the mission as well.
Goal-setting for the company, the teams, and the employees
Are your company's goals realistic? Do you have "buy-ins" from your staff to achieve them? What about accountability? Or do you find that people simply ignore the goals? With a corporate coach, you can learn how to best set company-wide and team-wide goals, as well as employee-oriented goals, in order to help your business thrive.
Dealing with organizational change
It seems like the only constant these days is change. Companies merge, departments merge, organizations become "reorganizations," and employees get transferred or even laid off. How do you handle such change? Many corporate coaches have real-world experience that can be utilized to help you manage organizational change and help integrate new teammates and tasks into the mix.
Resolving conflicts
If your company's staffers are at each other's throats, with backbiting among managers, and employees operating in a nontrusting environment, you are not going to achieve everything you could be. But conflict resolution may be difficult to do in-house for a variety of reasons, such as people having different agendas. That is where a corporate coach can help – his or her only agenda is to get all of your staff on the same page.
Getting peak performance
Corporate coaches are known for helping to get peak performance out of people, from top to bottom. Some companies think that the higher-ups are the only ones who can and should receive the benefits from such coaching, but the fact is that staff on all levels can benefit from the coaching.
Helping you invest in your staff
The most important investment your company can make is to invest in great people. That encompasses a variety of things, from picking the right people and keeping employees happy to helping groom staffers to be promoted or helping new managers work well with others. Corporate coaches can help with every single one of these things, and help you develop a productive staff.
Increasing happiness
A happy company is a successful company. Businesses like Google and Zappos know that this involves more than a paycheck. Cutting-edge corporate coaching exerts will work with your company to increase your staff's happiness. When your staff is happy, they are more productive, and more relaxed. This means they will have a better way to do their jobs and also come up with great ideas for your business.
Improving communications
Sometimes it takes an outsider to see how corporate communications can be improved. Through corporate coaching you can help improve listening and communications skills to help you better understand your staff – and for your staff to better understand you.
Managing stress
Stress is inevitable – but it can be productive if used the right way. We can help you with stress management techniques that will make you and your staff more productive, instead of stressing out over your job. This includes helping you with work-life balance, so you can have a work life, and a personal life, and not feel as if you have to choose between the two.
Helping your company plan for the future
Where do you want to be in five years? Where do you want your company to be in five years? Corporate coaching can help you with those questions, and talk with you on how you can best prepare your business – and yourself – for the future.
So why not contact a corporate coach to help bring your business to the next level.