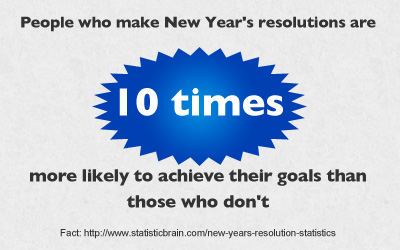 By LISA SWAN
Now that 2013 is upon us, you may want to have a better life this year. Perhaps you have formal New Year's resolutions, or just a nagging to-do list that you finally want to get done. So how do you get the year off to a terrific start, and be on your way to getting your goals accomplished? Here are some suggestions:
Review what you did – and didn't do — in 2012
You can't know where you want to go in the future until you know where you have been. So that means taking an honest look at what you did over the previous year, reviewing your ups and downs, your accomplishments, as well as what you didn't get done. Look at not just your work life, but your personal life, your family life, and your spiritual life. How do you feel? Are you energized, or dragging your feet? After making an honest appraisal of your year, you can better come up with goals on what to do in 2013.
Think about what you want to change in 2013
You want to come up with concrete goals for the year in each aspect of your life that you would like to improve upon. But don't just say that you would like to make more money or lose weight. You should set SMART goals – these are goals that are Specific, Measurable, Attainable, Realistic, and Timely. So that means that instead of merely wishing you could earn more, come up with an action plan on what to do, and how to do it.
For example, using the money example, if you have a small business, you can think about ways to make more money, like aiming to sell X amount more of your products each week. To lose weight, put down a realistic goal instead of saying that you will lose 100 pounds in six months.
Take some time for yourself
It's easy with the hustle and bustle of life to put yourself last. You end up caught up with your job, or with housework, or your kids, and you don't have any time for you. So life coach advisors say you should think of some fun things you can do to enjoy life, and use the down time you may have at the beginning of the year to enjoy life a little.
Change your latitude, change your attitude
Even if you can't take a full-blown vacation right now, see if you can go somewhere you have never been for the day. It's amazing how seeing a new place can give you a fresher perspective on life. Another way to change your perceptions is to clean up your home and rearrange your furniture.
Doing some of these things can help you start the new year with a new attitude.