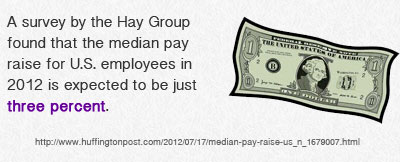 By LISA SWAN
You are a rock-star employee. You are doing a great job. And your boss agrees. But there is no money to give you a raise at your company.  So what should you do next?  Here are some options to consider during these tough times in the economy:
Ask for a bonus
One of the reasons employers don't want to give out raises – or cannot afford to give out raises – is because they will have to budget for that extra money as long as you work there. After all, they can't really take the raise back, can they? So instead, why not ask if they will be willing to give you a one-time bonus. This way, you get the recognition – and some money behind it – while they will have a happy employee who will stay with their company. It's a win-win for both of you.
See about getting some time off
Your employer may also be willing to get you some additional time off that does not count against your annual leave instead of a raise. For example, he or she could let you take some long weekends on the house. Or maybe you would just like to have Friday afternoons off once a month. As long as you continue to do a great job, many employers will be amenable to such a situation.
Offer to do additional, different things
For example, if you are a receptionist hoping to work your way up in the company, and the person in charge of your business' website is going to be going on maternity leave soon, why not ask if you can learn what needs to be done on the site, and update it in her absence. You can show that you are a valuable employee in a variety of areas, and that you are willing to pitch in to get the job done. This something that will help you move up the corporate ladder, as people see you as more than a receptionist.
Ask for a new title
People are impressed by job titles, and they matter more than ever in the age of LinkedIn, where opportunities can be made – and broken – by job titles. Getting a new job title will cost your employer nothing, but could help your career opportunities, particularly if you have the words "manager" or "executive" or "director" in the title.
Look for a new job
You may have done all these things, and are still waiting on a raise, years later. Or maybe you just think it's the right time to move on. If your employer isn't forthcoming with giving you more money, it may be time – or long past time – to find a new job. You have to do what is best for you, and get rewarded for your talents. Do not feel that you have to stay underpaid forever.